Sharing Our Invisible Histories
Many events in APIMEDA history are not shared through general education. The APIMEDA Sharing Our Invisible Histories series shares points in APIMEDA history that need more attention. See past flyers here, and look for current ones on Facebook, our newsletter, and on the front page of the website.

While many Middle Eastern, Filipino, Asian Indian, and Chinese people in America were already eligible for US citizenship, the McCarran-Walter Act of 1952 gave many Asian Americans citizenship and the right to vote.
This was only 66 years ago.
If you are able, please register to vote in California by October 22 to be eligible to vote in the upcoming November election. For information about voting in the AAPI community, visit http://vote.18mr.org/index.html.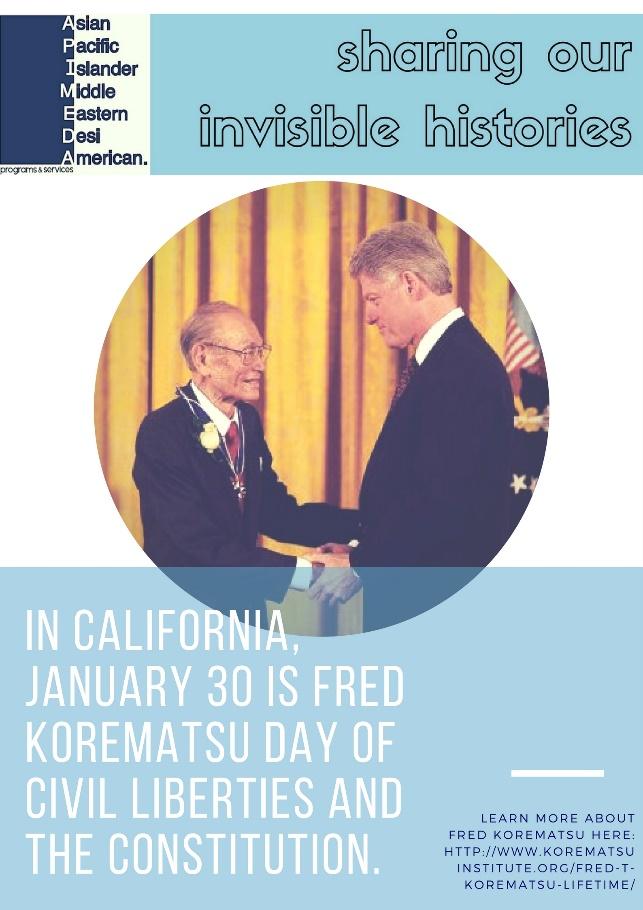 In California, every January 30 is Fred Korematsu Day of Civil Liberties and the Constitution. This day is to honor Fred and his stand against the unconstitutional incarceration of himself and many other Japanese Americans during World War II. Learn more about Fred.
Dr. Luzuriaga, conducted the first early therapy trials in HIV-infected infants.

This Filipina American scientist was named one of the 100 Most Influential People by TIME Magazine in 2013. Learn more about her research.

The first population of Asian Americans to have their ethnicity listed as an option on the US Census were Chinese.
This appeared on the 1860 Census. The 2010 Census data reported disegregation for 25 different Asian/Asian American ethnicities (including one for "other Asian").
Learn more about UC San Diego and the 2020 Census here. Learn more about where Asian Americans live in the United States here.
Middle Eastern and North African people have never had their own racial category on the US Census.
Despite advocacy to add a racial category for Middle Eastern and North African (MENA) people, MENA people are included in the White racial category.
Learn more about UC San Diego and the 2020 Census here. Learn more about an accurate MENA count and future advocacy here.

Pacific Isladers were first counted in their own racial category in the 2000 Census.
Prior to this, Pacific Islander People were counted in the same racial category as Asian American people.
Learn more about UC San Diego and the 2020 Census here. Learn more about where Pacific Islanders live in the United States here.
April is National Arab American Heritage Month. In 2019, 26 US States recognized April as National Arab American Heritage Month through official proclamations.
California first recognized Arab American Heritage Month with a proclamation in 2018.
Learn more about NAAHM and celebrate online with the Arab American National Museum on their website.
In 2019, Rami Malek became the first Arab American person to win an Oscar for best actor.
Malek played Freddie Mercury in the 2018 film Bohemian Rhapsody. He also won an Emmy in his role in Mr. Robot.
To learn more about Rami Malek and his work in television and film, check out his IMDB page.
California has the largest number of Arab Americans in any state, with the largest communities within the Los Angeles area, San Diego, and San Francisco Bay.
The Arab American community is represented in 56 out of 58 counties in California.
Learn more about the Arab American Community in California for the other states here.
In 1992, Congress Passed a law to officially designate the month of May as Asian Pacific Islander American Heritage Month.
May was chosen to commemorate the immigration of the first Japanese to the United States on May 7, 1843 and to mark the anniversary of the completion of the transcontinental railroad on May 10, 1869. The majority of the workers who laid the tracks were Chinese Immigrants.
Learnmore about APIAHC Month and celebrate online with UC San Diego virtual programs here.
Geena Rocero became the first openly transgender Asian-Pacific Islander model to pose for Playboy Magazine in August 2019. Rocero made history for Playboy Magazine and for LGBTQ+ Asian Pacific Islanders.
Geena Rocero is a Filipina-American model, TED speaker, and trans rights activist based in New York. Rocero is the founder of Gender Proud, a media production company that tells stories of the transgender community worldwide to elevate justic and equality.
Hear more about this moment from this interview and article. 
Eloise Baza was the first woman and the first Chamorro to hold the presidency of the Guam Chamber of Commerce.
Eloise Baza was the president of the Guam Chamber of Commerce from 1984 until 2007. She was also the longest serving president of the organization to date.
Read more about her political achievements here.
Flossie Wong-Stall is a Chinese-American virologist and molcular biologist. She was the first scientist to clone HIV in 1985 and determine the function of its genes, a significant step in proving that HIV is the cause of AIDS.
In 2007, The Daily Telegraph heralded Dr. Wong-Staal as #32 of the "Top 100 Living Geniuses." For her contributions to science, the Institute for Scientific Information named Wong-Staal the top female scientist of the 1980s.
Check out Wong-Staal's biography here.